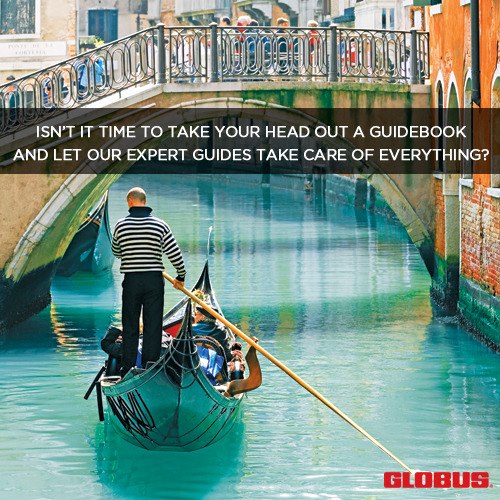 Leaving all the Planning to Globus
What is a Guided Vacation if not the perfectly packaged trip? Globus Tours, which has been packaging first class guided vacations for nearly a century has the recipe down pat!
Making your own arrangements throughout one country let alone several can be daunting not to mention time consuming and downright frustrating. There are hotel reservations, train reservations, car rentals, sightseeing, meals, maps, and all sorts of other things to consider when planning a trip. Imagine a one stop shop that'll include all the above and more?
Globus handles all the ground work, taking care of everything for you; finding the right hotels in just the right locations, arranging the most convenient transportation, and hiring expert local guides to regale you with colorful stories about the wonders of every destination. Globus ensures that you simply enjoy every moment of your touring vacation.

Availability won't be a problem as Globus commands more than 225 guided vacations to more than 20 countries on six continents. Navigate by land, sea or air without worry for your luggage. No need to fret over lines, as Globus Tour Guides will take you to the best sites, where you'll experience VIP treatment.

And if that's not enough, Globus will give you the chance to personalize your tour ahead of time by plan additional excursions, optional activities and once-in-a-lifetime meals. Whether Europe holds your heart or South America delights your senses, Globus will escort you there in the splendor you deserve!