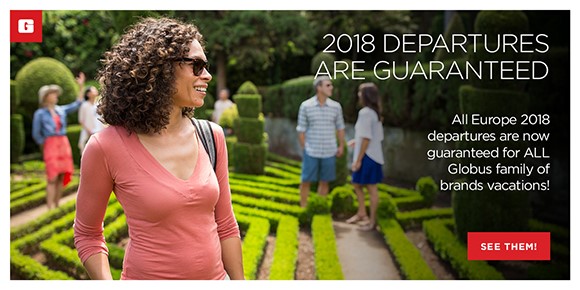 EXCLUSIVE GUARANTEED GLOBUS DEPARTURES THROUGHOUT 2018
We are incredibly excited to announce that Exclusive Guaranteed Tour Departures are real and we have them exclusively for you!! If you're nt acquainted with the phrase Guaranteed Tour Departures, I will gladly be your guide in understanding exactly what that means... For years, travel companies like Globus had a departure date for almost every day of the calendar year with no guarantee whatsoever that the departure would actually take off. Although these companies would contact us to let us know whether or not the departure was still on, it wouldn't be until about 60 days prior to that departure when we received that call! So, if the departure was a No Go, our client would either have to choose with going on the date(s) available or cancel all-together... Sure, they would get all of their money back including flights and insurance (as long as it was purchased through the tour operator), but where would they go now? Some clients had this trip planned out almost a year in advance; others confirmed these dates with their employers. Flights to any major destination would be three times the cost that they were months earlier.
Then 9/11 happened and travel changed forever... Tour operators were giving full refunds on deposits and full payments to travelers with upcoming trips who were too afraid to travel abroad! This lasted months... Although tour operators will say that they felt it was their duty to provide this service, their collective losses remain unknown to the travel community.

The following year Trafalgar Tours came up with a "Guaranteed Departure Date" based on certain departures that sold out five years consecutively. Not only did they provide the traveler with assurances that their investments were safe on these trips, they encouraged those same travelers to feel free and purchase they're own flights. If those dates dates didn't sell out, the trip would still be a go.
Soon after that, other tour operators like Trafalgar-owned Insight Vacations followed suit. Other first class operators like Globus and more moderate sister company Cosmos also followed in Trafalgar's footsteps.
As fast as travelers and travel consultants began catching on to the concept, the faster these particular dates began filling up!
Well, now with us you can choose the date you want on ANY of the Globus Europe Tours on the page and it'll be GUARANTEED!