Expert Planning. Award Winning Service. Unbeatable Value
Start Planning your Journey
Take a Look at Our
MOST POPULAR TOURS
Why Choose An Escorted Globus Tour
Reviews
Elena A.
Customer service was quick, pleasant , very helpful, patient and able to provide all answers to questions and requests asked. I had a very easy time dealing with and i would use the same in the future . Great price and very clear explanations re additional concerns. will recommend to friends and relatives.
Sherry D.
I give our travel consultant, Brenda, my highest praise. She was EXTREMELY HELPFUL, KNOWLEDGEABLE, PROFESSIONAL and FRIENDLY. I consider her our personal travel agent and will recommend her to our family and friends.
Marlene P.
Very Professional - great follow-up. All my questions were answered immediately. I was very happy with the customer service.
Shikh S.
Good service and Sandi was very helpful. Clients need all details as normally they are far away from your office and with the time difference of 10-12 hours it is the prompt reply with all details makes the difference between good and bad service.
Maida M.
Brenda was on the ball because she realized I had booked my departure incorrectly and was flying into the wrong airport for the tour. She called me at home and I was able to correct it with the airline at no additional cost to me. I was very thankful !
Denise M.
Seattle
I wanted to send you this brief note to tell you what a great job Gabriela has done in planning our trips over the last four years. She is efficient, courteous and promptly responds to requests. She goes above and beyond and researches various trip options while trying to get us the best deal. She has saved time and money and makes her clients feel valued and appreciated. Thanks to her, I have not had to haggle with travel and airline companies about trip details or prices. Your company is very lucky to have her as an employee. I wish her continued success with your company.
Coni P.
My deepest gratitude for a very good customer service . Will be back with you on our next plans. Thank you
Anita W.
It was a pleasure working with Brenda Wachs. She provided all the information I needed to book this tour. She was wonderful to work with and when and if I plan to book another tour, I will definitely use your company and Brenda as my travel agent.
Lim Y
Gabriela has been helpful & very prompt in providing information about Antarctica trip. We are definitely joining the trip, pending the timing.
Marissa A.
Alex is very helpful, professional and well knowledgeable on European tour. Hopefully, I can book a tour with him in the future. Thanks again.
Latest From Our Blog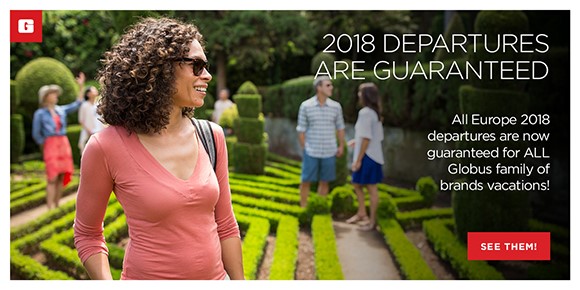 We are incredibly excited to announce that Exclusive Guaranteed Tour Departures are real and we have them exclusively for you!!