Expert Planning. Award Winning Service. Unbeatable Value
Start Planning your Journey
Take a Look at Our
MOST POPULAR TOURS
Why Choose An Escorted Globus Tour
Reviews
Jim L.
New York
Whenever the subject of "how did you book your travel plans", we always recommend Atlas Cruises & Tours in Florida and you specifically. And, yes, we beginning to search for 2017 travel. This trip was near the top of our best tours and, as usual, a lot had to due with your support and patience. We look forward to working with you on our 2017 and future plans.
Joanna G.
Richmond, CA
Atlas Cruises & Tours Rock! The quality of customer service provided by the staff is commendable. I vacation at least 2 to 3 times throughout the year and Atlas Cruises & Tours have made planning my upcoming group cruise a wonderful, stress free process.
Anita W.
It was a pleasure working with Brenda Wachs. She provided all the information I needed to book this tour. She was wonderful to work with and when and if I plan to book another tour, I will definitely use your company and Brenda as my travel agent.
Cheryl S.
Brenda was fabulous always making sure we got what we wanted, and always in touch to make sure the experience was the best!! Over all the experience was positive and I would definitely use you and recommend you to friends and family.
Lim Y
Gabriela has been helpful & very prompt in providing information about Antarctica trip. We are definitely joining the trip, pending the timing.
Marlene L.
Alex ,did a very fine job. He was on the ball and always available to talk and give us good advice. We enjoyed working with him. Thank you. Alex
Elena A.
Customer service was quick, pleasant , very helpful, patient and able to provide all answers to questions and requests asked. I had a very easy time dealing with and i would use the same in the future . Great price and very clear explanations re additional concerns. will recommend to friends and relatives.
Sherry D.
I give our travel consultant, Brenda, my highest praise. She was EXTREMELY HELPFUL, KNOWLEDGEABLE, PROFESSIONAL and FRIENDLY. I consider her our personal travel agent and will recommend her to our family and friends.
Coni P.
My deepest gratitude for a very good customer service . Will be back with you on our next plans. Thank you
Lee B.
Alex is very responsive and professional. The level of service exceeded my expectations. I will use you again and refer your company to others.
Latest From Our Blog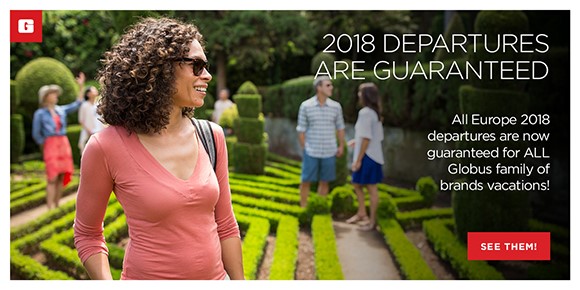 We are incredibly excited to announce that Exclusive Guaranteed Tour Departures are real and we have them exclusively for you!!